23/01: You Might Win Some But You Just Lost One: Unmasking the Miseducated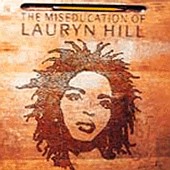 "You might win some/But you just lost one . . . :(1) " Unmasking the Miseducated
Introduction
On August 25, 1998, a girl from South Orange, New Jersey released a groundbreaking solo debut album that many consider the album of a generation. Lauryn Hill confronted personal, social and political issues in the critically-acclaimed album
The Miseducation of Lauryn Hill
. However, through the transformation that occurs while listening to this album, a deep and rich history follows Hill through to the end of her exegesis on being educated. In this profound history, one sees the evolution of a young girl of Haitian heritage becoming a multi-faceted, multi-layered ingénue. Likewise, one also sees the completed product of a rarely spoken, subtly observed and blatantly emoted struggle to find a niche, a place where she makes up her mind to define her own destiny.(2) Her public persona reverts all the way back to a parade of boos on a Harlem stage to roles in television and film to production, collaboration and musical affiliation with Wyclef Jean and Pras Michel. These experiences came to a standstill, a boiling point, as she embarked on creating a lyrical, theoretical, and sonic world where the listener was introduced to a little girl with skinny legs and a pressing curl, whose mother always thought she'd be a star.(3) Perhaps the most interesting phenomenon in this journey with Lauryn Hill is the role her spirituality and/or religion play in the total makeup of her character. She seems to maintain an unfailing faith in something greater than herself but through her music and sometimes erratic behavior, she has a public identity struggle where she attempts to recognize who she is and whose she is. Hill cites numerous spiritual and iconic figures of different religions, as well as ideologies, in her music which suggest a kind of polytheism; she believes that all these things amalgamate to form the essential Lauryn Hill. However, through the invocation of these supernatural forces, is Hill outwardly conveying a self-created form of religion or is she pulling from all facets of her geographic life—the Caribbean, Africa, and America, specifically New Jersey—to exhibit a kind of worldliness that validates her blackness or Africanism?
Lauryn Hill single-handedly transformed how society viewed rap and hip-hop with her solo project garnering five Grammys. But consequently, her work with the Fugees catapulted her into commercial and industry success. She became the voice for a generation of youth and young adults that sought to be "fly" and true to self while living out a constructed standard of what they should be. A case-by-case analysis of her lyrics exposes her obvious acumen in various and sundry intellectual and religious modes of thought. However, three religions or at least religious ideological structures seem to permeate throughout her music so much so that, in my opinion, Lauryn Hill becomes this hybridized spiritual iconoclast who attempts to prove that she can be every woman and an individual at the same time; she takes on the role of the most learned uneducated professor in the field of life.
". . . /I'll never forget no way/how they sold Marcus Garvey for rice . . .(4) ": Lauryn Hill and Rastafarianism
Rastafarianism was made widely popular through the life and walk of Bob Marley, perhaps the first commercially successful mainstream adherent of Rastafarianism to inhabit the music world, not solely reggae. However the mysticism of Rastafarianism is steeped in earth-walking prophets and "the chosen ones" appointed to lead nations of people. Rastafarianism is a strangely mystical religion pursued by only a small minority of Jamaicans. Rastafarians have no church and no official doctrine except for the belief that Africa is the spiritual home of the black race to which all are destined to return. This notion of a spiritual return to Africa is characteristic of a variety of apocalyptic cultural forms in the African diaspora: Back in the past somewhere, someone made a wrong turn toward slavery or emigration, and if he had not, if we could retreat to some time in Africa before the wrong turn took place, then an effortless nirvana would be the result. Furthermore, infused with the Garveyism of the '30s, Rastafarians regard Marcus Garvey as a prophet.(5) Thus, the aforementioned lyrics to the song "So Much Things To Say"—a Bob Marley cover—on her
MTV Unplugged
album holds a significant meaning to her roots (no pun intended) to Jamaica and Rastafarianism. Perhaps more pertinent and solidifying to her fascination with Rastafarianism is a song on the album
The Score
called "Manifest/Outro." Though she may not specifically rap these lyrics (Wyclef Jean does), the essence and relevance these words have to her life and religious affiliation ring ever true:
I woke up this morning/
I was feeling kind of high/
It was me, Jesus Christ and Haile Selassie/
Selassie said greetings in the name of the most high/
Jah Rhastafari/
Christ took a sip of Amaretto/ . . .(6)
Rastafarians believe in the divinity of the late Ras Tafari Makonnen (Emperor Haile Selassie I). One of his several titles as emperor was the Conquering Lion of Judah (Hosea 5:14). The lion is one of the most important symbols of the Rastafarian religion (http://www.lariat.org/AtTheMovies/dvd/laurynhill.html, Copyright 2002 Robert Roten). And she once again shows references to Rastafarian ideals through her the song "The Conquering Lion:"
The conquering lion/
Shall break every chain/
The conquering lion/
Shall break every chain/
Give him the victory/
Again and again/
Give him the victory/ . . .(7)
She exposes all of the inner workings of Rastafarianism through her amalgamation of the centrally deified figures and perhaps, both subtly and blatantly, promotes Rastafarianism—through her lyrics, events in her personal life, and even her appearance ("The Conquering Lion" and the reggae-infused "Lost Ones," her dreadlocks, her marriage to Rohan Marley, son of Bob Marley). However, as her career continues to flourish, some of the very ideals she touts through her Rastafarian musings seem to become the bane of her notoriety and stardom.
". . . /MCs ain't ready to take it to the Serengeti/My rhymes is heavy like the mind of Sister Betty/ . . .(8) ": Lauryn Hill and Islam
Contemporary to the aforementioned ideologies outlined by Rastafarianism, Islam also plays a major role in the message Lauryn Hill seeks to convey to the wider listening audience. Early in her career, Hill consistently makes references to the Nation of Islam and more specifically, Louis Farrakhan and Malcolm X (As found on her MTV
Unplugged
album, the lyrics to "Freedom Time" are: ". . . /And that sentence more serious than Vietnam/The atom bomb is Saddam and Minister Farrakhan/. . ."). However, as shown by an article written in a college newspaper, it appears that the ongoing public struggle Hill has translates a confusing message to those who listen to her music:
Lauryn Hill was once a member of the Fugees, a group that proudly
admits that they are associated with the "Five Percent Nation," . . . ,
some of the lyrics are as follows: "Them devils wishing they could
send me back to Mogadishu . . . pray tell me when the revolution
will begin; I turn on my TV; I check out Farrakhan on CNN . . . got
within myself so it made me a 5 percenter."(9)
He goes on to say:
So what does this all have to do with Lauryn Hill? Lauryn Hill
has freely associated herself with the Five Percent Nation, who
often uses Elijah Muhammad's book as reference to their views. . . .
I think that anyone who associates with these groups are racist
themselves.(10)
Elijah Muhammad's book, "Message to the Blackman in America," seeks to transform the mindset of the black man by building up a disposition of nationalism and self-love within him. The book even goes far enough to state that the whole Caucasian race is a race of the devils. Nevertheless, once again one sees the marginalization of the black woman, whether is it based on the title of Elijah Muhammad's book or the patriarchal constraints associated with Muslim rite and tradition. Hill becomes pivotal here because in spite of her quasi-Christian/Rastafarian affirmations, Hill often boldly approves of and affirms some of the very ideologies and ideologues that denounce the culture buying the majority of her albums and her feminism. She juxtaposes her comfort with being a female MC and having brutal honesty on the microphone with that of displacing the value of the listener for a momentary epiphany of profundity. The simplicity of her association with the Fugees and some of their "5 percenter" philosophy inhibited the lyrical validation she deserved from the dominant culture as a solo artist and a member of the group. But, in the same regard, Hill subtly confuses the status quo because she blatantly takes on an unprecedented role in the entertainment industry and in her spiritual life while continuing to erase and obliterate ideals of submission and patriarchy in the Muslim, African-American and American communities. One article reads, "Lauryn Hill takes all of the frustrations into her solo career, forging and establishing a new kind of soul feminism that the likes of Kelis, Macy Gray, Destiny's Child, and Erykah Badu have all benefited from . . . Hill may be 23, but her lyrics often sound so old, as if her experiences in the biz have surgically removed all traces of youth from her, leaving her weary, angry and determined that no other young female should make the mistakes she has had to learn from.(11) Her feminist ruminations as well as spoken perspectives rebuke the foundations of the social constructs brought about by religion, Islam in particular, class and gender. Thus, Hill is able to take on the character of being unmatched, a rapper/actress that is more powerful than two Cleopatras.(12)
". . . But I try to keep it civilized like Menelik/And other African czars observing stars with war scars/ . . .(13) ": Lauryn Hill and Ethiopian Orthodoxy
Perhaps Hill's most fervent and unyielding declaration of spirituality is found in her ties to Ethiopian Orthodoxy and Christianity. The Ethiopian Orthodox Church has many similarities to Rastafarianism. One of the domino effects of the Queen of Sheba's visit to prove King Solomon "with hard questions" was that their energy was fused together and consequently more energy was formed. This new energy was evident in the creation of new religions—the Ethiopian Orthodox Church and Rastafarianism, and, in the infusion of new energy into established religions—Christianity, Islam, and Judaism.(14) Thus, with this fusion of energies, a fusion of religious text also expressed the similarity of the two ideologies. The Kebra Nagast, or the Book of the Glory of Kings of Ethiopia, is said to have been in existence for at least seven hundred years and is considered by Ethiopian Christians and Rastafarians to contain the true history of the Solomonic line of kings in Ethiopia and is regarded as the ultimate authority on the history of the conversion of the Ethiopians from the worship of the sun, moon, and stars to that of the "Lord God of Israel."(15) Again, there is a correlation among the various teachings Hill holds dear. Even through her lyrics, Hill's ties with Ethiopia are tangible to listeners:
Now I'm a get the mozzarella like a Rockerfeller/
Still be in the church of Lalibela/
Singing hymns a cappella/
Whether posed in Maribella in Couture/
Or collectin' residuals from off The Score/ . . .(16)
One sees how Hill crosses cultural lines and generations and combines music, ancient history, Americana, and contemporary fashion while holding true to this kind of African spiritualism to which she espouses. Her affiliation with the Ethiopian Orthodox Church and the relevance of African spiritualism in her life are unmistakable through her lyrics and her life.
". . . /Marching, marching, marching to Zion/Beautiful, beautiful Zion/. . .(17) ": Lauryn Hill and Christianity
Lastly, Lauryn Hill acknowledges her Christian background throughout most of her music. Her role in "Sister Act 2: Back in the Habit," and even her Grammy award speech where she quoted Psalm 40, expresses this recognition of Christian principles. The book
American Popular Music: New Approaches to the Twentieth Century
states:
Lauryn Hill's unique style of storytelling combines a panoply
of Afro-diasporic musical styles: reggae, rhythm and blues, soul,
and gospel. . . . In "Forgive Them Father," Hill tells her listeners,
with lilting, Caribbean-accented raps and singing that mixes soul
and gospel styles, to beware of false friends in sheep's clothing.
With its references to Cain and Abel, Caesar and Brutus, Jesus and Judas, this song is Hill's statement to duplicitous black "brothas and sistas" who value fame and fortune more than friendship and virtue.(18)
Hill basically presents a sermon using Biblical references and imparts sensible applications for life while expressing the idea of forgiveness as exhibited by Christ himself (Luke 23:34). But perhaps the most audacious showing of Hill's Christian beliefs occurred in 2002. By 2002, after she gave birth to her third child, Hill cut her dreadlocks, scaled back her elaborate stage act, and sang simple, politically inflected songs to the accompaniment of her not particularly accomplished acoustic guitar playing. The presentation emphasized spiritual purity, emotional authenticity, and not aesthetic expertise. When one considers the signal effort of her success—the non-profit Refugee Project designed to help save and educate poor children in Haiti and elsewhere throughout the third world—the attempt to cleanse and purify her practice was stunning, albeit via a religion in which such female assertion was unprecedented. In her song "So Much Things to Say," she sings, "I will never forget no way the way they crucified Jesus Christ," implying some comparison to the awful paradox of being rich and celebrated in a world in which being black continues to be hell for most.(19) It is as if Hill compares her struggles with fame and fortune, which she already outlined in "Forgive Them Father," with the burdens laid upon Jesus Christ as he neared the end of his life. But perhaps most ironic is that she expresses this internal unrest by reverting back to a "normality" that, at first, was "abnormal" due to Rastafarianism (". . . a religion in which such female assertion was unprecedented," i.e., she cuts off her dreads and becomes more normal then she was before).
In conclusion, Lauryn Hill insists on defining herself on her own terms in spite of what others think or feel about her behavior, whether healthy or irrational. In the end, it does appear that Hill is an amalgamation of all these religions: Rastafarianism, Islam, Ethiopian Orthodoxy and Christianity. Furthermore, I think she does use all of these ideologies and forces, larger and bigger than she is, to outwardly convey a self-created form of religion and to pull from all facets of her geographic life—the Caribbean, Africa, and America, specifically New Jersey—in order to exhibit a kind of worldliness that validates her blackness/Africanism.
Israel Durham
Footnotes:
1. Hill, Lauryn. "The Lost Ones."
The Miseducation of Lauryn Hill
. Columbia (USA), 1998
2. Hill, Lauryn. "The Miseducation of Lauryn Hill."
The Miseducation of Lauryn Hill
. Columbia (USA), 1998
3. Hill, Lauryn. "Every Ghetto, Every City."
The Miseducation of Lauryn Hill
. Columbia (USA), 1998.
4. Hill, Lauryn. "So Much Things To Say."
MTV Unplugged
. Columbia (USA), 2002
5. Wallace, Michele. Introduction.
Dark Designs and Visual Culture
. North Carolina: Duke UP, 2004.
6. Fugees, The. "Manifest/Outro."
The Score
. Ruffhouse, 1996.
7. Hill, Lauryn. "The Conquering Lion."
MTV Unplugged
. Columbia (USA), 2002
8. Hill, Lauryn. "Final Hour."
The Miseducation of Lauryn Hill
. Columbia (USA), 1998
9. Williams, Sean. "Diversity only goes so far at UConn."
The Daily Campus
. 27 Sep. 02
10. Ibid.
11. Mulholland, Garry. "A Rose is Still a Rose."
This is Uncool: The 500 Greatest Singles Since Punk and Disco
. Great Britain: Cassell Illustrated, 2002.
12. Hill, Lauryn. "Everything is Everything."
The Miseducation of Lauryn Hill
. Columbia (USA), 1998
13. Hill, Lauryn. "Tell Him."
The Miseducation of Lauryn Hill
. Columbia (USA), 1998
14. Conyers, James L. ed.
Afrocentricity and the Academy: Essays on Theory and Practice
. North Carolina: McFarland & Company, Inc., Publishers, 2003.
15. "Kebra Nagast."
Wikipedia: The Free Encyclopedia
. 19 October 2005 22:04 UPenn. 12 Dec 2005
.
16. Hill, Lauryn. "Final Hour." The Miseducation of Lauryn Hill. Columbia (USA), 1998
17. Hill, Lauryn. "To Zion." The Miseducation of Lauryn Hill. Columbia (USA), 1998
18. Rubin, Rachel; Melnick, Jeffrey Paul eds. American Popular Music: New Approaches to the Twentieth Century. Boston: U of Massachusetts Press, 2001.
19. Wallace, Michele. Introduction. Dark Designs and Visual Culture. North Carolina: Duke UP, 2004.