29/08: Kingdom, Infrastructure and a Reformed Black Community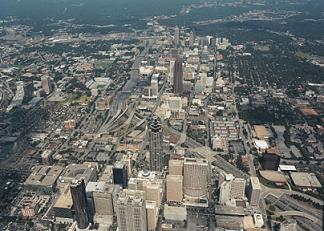 The Creation of a Kingdom
We may think that the concept of ďinfrastructureĒ has nothing to do with the Bible, that it is a 21st century notion for the workplace. But interestingly, the beginning of Genesis opens with Godís creation of an infrastructure through which to display His presence and glory. Genesis 1:1 reads, ďIn the beginning, God created the heavens and the earth.Ē God created the universe in order to create for Himself a Kingdom where His Kingship Rule and glory would be multiplied (Psalms 103:17-22, Matthew 6:10, Revelation 21:1-4). Basically, in creating the universe, God was creating a Kingdom-a location and habitation for Himself and His servants who would affectionately and fearfully esteem Him as King. This was the purpose for Godís creation-God was building a Kingdom, a land which He would rule and which would be possessed by those who would completely and lovingly serve Him.
We of course know that the current state of Godís universe is involved in a battle between the Kingdom of Light and the Kingdom of Darkness (Matthew 11:12), but God will one day return creation to its rightful and original order and all will submit to His Lordship authority and rule (Romans 8:19-23, Revelation 11:15-19, Revelation 21). Therefore, an understanding of creation and life must be couched in an understanding of Godís desire for complete Lordship and Kingship of the very ground on which we walk. His inevitable goal is aimed at achieving and winning the entire universe back as His Kingdom, as His habitation and place of rest and eternal rule in order that He and mankind may enjoy complete unity in relationship and fellowship.
At creation, the entire universe was to be Godís infrastructure, a location and entity personally planned and formed according to His specifications. The entire creation was to be His temple, His habitation, His house built and sustained by His own hands. The universe and earth as His house was to be full of His presence, glory and authority. The entire universe was intended to be reflective of His presence, His handiwork, His craftsmanship. The universe was to completely and entirely evidence His existence, presence, glory and authority. As salvation spreads throughout the earth, Godís Kingdom increases and spreads throughout the earth and the universe is progressively restored to its intended brilliance (Matthew 13:31).
Infrastructure and RBA in General
So what does all this talk of a Kingdom creation as an infrastructure for the multiplication and dominion of Godís glory have to do with RBAís mission? Reformation and Biblical truth are not going to gain significant ground in the Black community or among Black Evangelical America until there is a multi-faceted infrastructure which exists in the Black community. There must be a connection of entities or infrastructure which can be a catalyst and foster the growth of Biblical truth among Blacks. An infrastructure must exist as a basis for the establishment and increase of biblical thought and lifestyle among Blacks.
We can write, teach and preach to exhaustion but until the Black community at large is faced with contending with the existence of a multi-layered Black Reformed infrastructure, I question the advancement of a Reformed Black movement. Writing, teaching and preaching are of course biblical and effective ways to influence others for Christ, but until such works for Christ are couched within a larger defined, established and growing community, we may need to question not the general effectiveness of our writing or preaching per se but the particular issue of whether we are effectively seeking through the use of our gifts to foster a Black Reformed community that will last for generations. Are we prepared to face the reality and disappointment of God if we are the last oneís standing because we have done nothing? This is of particular concern to the 3rd generation of Black Reformed believers of which I am a part.
The initiation of a Black Reformed community must necessarily extend beyond pages written, a Sunday morning sermon or weekday evening Bible study to the many actions among the hearts, homes and talents of many Black believers. The Black Reformed community will not grow with only the consumption of Scripture and Biblical literature but with the strategic employment of the gifts and desires of many committed African-Americans in many different areas of society. The growth of such a community necessitates strategic action and involvement by many, each doing their part to push the Kingdom of Light against the Kingdom of Darkness and regain this earthly land for the King in order to prepare it for His permanent return (Matthew 6:10, Revelation 21:1-4).
In Summary: Making the General Connection
1. Godís beginning initiative was to create an infrastructure or a location where He could establish and expand His Lordship. RBAís beginning initiative should be focused on aiding in the establishment and expansion of an infrastructure in support of a Reformed Black community in order to present His Lordship among the masses of African-Americans.
2. God developed a location where His presence and glory would be multiplied and reflected. RBA must strategically place itself in and among the Black community in a way such that His presence and glory would be multiplied and reflected among Blacks through the influence and by influencing the definition and explanation of Reformed thought and practice.
3. Mosesí creation account is couched in an ancient near east group-centric identity meaning that each Israelite was to see themselves as primarily obligated to others. RBA must fight against the cultural adaptation of the modern west to affirm an egocentric identity and rather seek to locate, connect and support others toward the establishment of a Reformed Black community.
4. The basic purpose of RBA is to create an infrastructure which both contributes to and supports the Kingdom of God at-large. With the help of so many others, we shall continue to push toward this goal for the glory of our King.
Examples of an Infrastructure
RBA has the insatiable and unquenchable desire to do great works for our King. As aforementioned, the primary rubric or conduit through which God has seen fit to reflect His control, authority and presence is through the establishment of an infrastructure. Of course, mankind is at the center of this infrastructure. RBA has already taken multiple steps to develop this Black Reformed infrastructure and one of the newest projects is the alliance of RBA with MosDeft.
Also, one of the primary ways in which to prepare and build an infrastructure by the minds and hearts of men and women is through education, but specifically the education of the young. A long-term goal of RBA is to be instrumental in the development of multiple K-12 educational institutions, similar to Christian schools, predominated by African-American teachers and students. Such a school would also train students for possible entry into Bible colleges followed by possible entry into Reformed seminaries. This would ensure that the truth of Godís Word continues to grow in the African-American community. Now thatís Kingdom multiplication and dominion!
Co-Founder Michael Mewborn