24/07: Covenant III - Correcting the System of Unequal Justice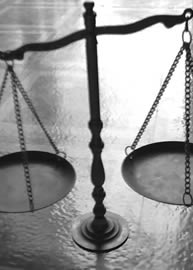 Chapter 3 of The Covenant with Black America is titled, "Correcting the System of Unequal Justice." The chapter is well-formatted and explains the existence, problems and a game plan to combat an unequal justice system. The first part of the chapter speaks particularly about CPS or the cradle-to-prison superhighway and its effects. "The CPS is a network of legislation, policy, practice, and structural racism that has fostered blacks being incarcerated at unconscionable levels at increasingly younger ages for increasingly minor acts." If one automatically smirks or doubts the validity of such a comment and routinely sets aside such information for the usual flashback of a beamed in CNN commentary depicting an eccentric black ultra-liberal, they may want to think again. As a matter of fact, if one doubts the validity of such a comment they probably have not read this book and should.
The second part of the chapter presents staggering facts on the disproportionate sentencing exacted upon blacks by the justice system. "Youth of all races sell and use drugs at similar rates, but African American youth represent 60-75 percent of drug arrests today. Black women are 8 times more likely to be incarcerated for similar offenses than are their white counterparts. Nationwide, young black offenders are more than twice as likely to be transferred to adult court as their white counterparts. African Americans constitute 13 percent of all monthly drug users, but they represent 35 percent of arrests for drug possession, 55 percent of convictions, and 74 percent of prison sentences." The third part of the chapter delineated what the community and every individual can do and some examples of campaigns and organizations that are successful in battling this multi-faceted problem. The chapter closes with a clear and lengthy explanation detailing what each leader and elected official can do.
The book is highly effective in its clear delineation of the problems faced by African Americans, the statistical proof of those problems and challenges and the action which needs to be taken. Based on the preponderance of evidence presented, it must be concluded that their remains unequal justice within the justice system. My primary concern is that the majority of believers are either unaware or unwilling to give credence to such injustice.
The concept and understanding of justice is broad but lends itself to synopsis. However, there is much about racial justice and injustice that is not easily described or understood, multi-layered and compounded by different variables. What is racial justice? From a surmise of the chapter, racial justice is not concerned as much with the ideal or degree of mercy at conviction or sentencing but rather is the foundation of a legal system which exhibits evenhandedness and a sense of impartiality in the search, charge, conviction, sentencing and rehabilitation of offenders. In other words, this chapter does not go as far as to blame the legal system for the problems of blacks, but the chapter does more than merely conclude that we have a flawed legal system and its flaws particularly influence blacks. This brief work could split time between remarking on the problem of unequal justice, discussing the justice system itself or discussing the aspects of the solution. I will choose to address the problem of unequal justice in light of our theology.
We may assume that we are to consider the idea of racial justice and injustice to be outside of the realm of study of theologians or Bible exegetes. But our assumptions may be based on the fact that we do not consider racial injustice to be a theological issue, an issue of the Bible, an issue of God. Perhaps we assume this because historically reformed theologians have not been concerned or sought to associate their knowledge of the Bible with realities such as racial injustice. The knowledge of the Bible and God and the knowledge of one's world and experiences did not intersect or were thought to be separate. This historic depiction of the theologian puts him at a disadvantage to speak to many of the problems today and this is unfortunate and even unbiblical. Nothing is off limits to the theologian and the exegete. After all, how are we to transform the culture if we do not consider such issues of our world to be a part of what it means to understand theology, to do theology and to talk with others about theology and the Bible? Our theology should be actively addressing and interacting with these areas as a tool for transforming culture not thought to be independent of such issues as racial justice. Again, theology is the application of Scripture to life.
In Genesis 18:19 God commanded Abraham to lead his household by obeying God and doing justice. In Proverbs 8:15-16 Solomon writes of wisdom personified, "By me [wisdom] kings reign, and rulers decree what is just; by me princes rule, and nobles, all who govern justly." In Isaiah 1:16-17, the prophet Isaiah commands Israel to obey God by seeking justice for the oppressed and disadvantaged. "Wash yourselves…learn to do good; seek justice, correct oppression…."
Throughout the Gospels, Christ responded to those who acted in unrighteousness in their perceptions and treatment of others. One such instance is in Luke 7:35 where He states in response to the Pharisees, "The Son of Man has come eating and drinking and you say, 'Look at him! A glutton and a drunkard, a friend of tax collectors and sinners!' Yet wisdom is justified by all her children." The Pharisees' response to Christ's interaction with the disadvantaged and sinner was unwarranted and sinful. Behind Christ's saying lies the Jewish tradition concerning wisdom as a divine agent expressing the mind of God, who preaches to men and longs to dwell among them but is rejected by them. In the present passage however, there is little to suggest that wisdom is thought of as a personal being, and the thought is rather that the rightness of God's plan is demonstrated by those who accept it. In that the Pharisees through their injustice toward sinners rejected the purposes of God, perhaps then God's creative order and the rightness of God's plan and purposes for creation can be evidenced and are advanced by a legal system which acts in accordance with racial justice and equality. Furthermore, we as believers who desire and act upon such desires to see an equitable and impartial justice system do prove to accept the wisdom of Christ by addressing such disparities.
One of the most significant hurdles in a study of racial injustice is to communicate why we as theologians should be concerned. Regrettably, as reformed theologians and exegetes, we often view ourselves as being separated from the human struggles of those around us. Theology and biblical understanding within the reformed tradition is historically constructed and interpreted in such a way that the reformed believer is able to comfortably disassociate himself from human and societal struggle. Our theology does not force us to deal with the people and the human struggles in which they are immersed; we can reconcile, work out and realize the implications of our doctrine quite well without the existence, matters or presence of others.
Our doctrine is bent toward feeding and sustaining the human intellect as opposed to ministering to the varying and complex needs and sensations of the human condition. But then again, the issue of racial injustice should raise the question of the purpose of doctrine in the face of the complexity of the human condition. Through continued reading, we allow doctrine to work with us but the disparaging nature of the human condition should provide us the sense that we must work with doctrine as well.
If we truly believe biblical truth, it should drive us back to our doctrine in order to work with it and make it more applicable in light of the current needs and situations of society. Therefore biblical truth lived out in the hearts and minds of believers should induce a sort of doctrinal spiral (similar to the hermeneutical spiral) which causes us to continually not only review our lives but the doctrine in which we believe. God's providence and sovereignty as seen in human affairs and the ups and downs of our fluctuating reality should give us the sense that we must rethink our doctrine for the purposes of understanding the way in which it can be more effectively demonstrated, communicated and applied. God's providence and sovereignty remains constant but the points of emphasis, aspects of it which need be communicated and the way we juxtapose sovereignty with other aspects of our reality must be considered.
Therefore, justice and injustice should challenge us afresh to consider that which we believe. Sadly, that which is to spur us to reconsider our doctrine in light of present circumstances actually provides room for neglect and indifference. For example, the wonderful and clear doctrine of the "already/not yet" may illustrate this point. The "already/not yet" structure basically provides an understanding of that which the believer currently has possession of in Christ, i.e. among other riches spiritual peace (freedom from penalty and power of sin, freedom to worship Christ) in their heart, as delineated from that which the believer has inherited through the person of the Holy Spirit but has yet to obtain, i.e. eternal and spatial peace in the presence of God (freedom from the presence of sin, freedom from suffering, etc.).
Sadly, the believer often finds indifference and retreat away from issues such as racial injustice and fairness based on his/her conception of the "already/not yet". The believer may be living as though the "not yet" has made the "now" irrelevant. However Paul's conception of the "already/not yet" was actually to spur us to greater action as we attempt to reclaim the world as the Kingdom of God, not foster an acceptance in the reality that certain parts of our lives will never change. Paul writes to the Thessalonians in 2 Thessalonians 2:16, "Now may our Lord Jesus Christ himself, and God our Father, who loved us and gave us eternal comfort and good hope through grace, comfort your hearts and establish them in every good work and word."
Merging Paul's conception of "already/not yet" with racial justice should not cause us to view injustice with indifference or a sense of powerlessness, but rather a sense of action and duty to minister to and change the world around us in order that the world can know the rightness of the Father. In turn, the idea of racial justice becomes an issue accounted for in our doctrine and in fact an issue that is important to God. Mankind as His image and most vital creation are to advocate and reflect His righteousness in each aspect of creation including the justice system.
The ideal and importance of racial justice may seem somewhat difficult for theologians to grasp or explain not only because most reformed theologians have not considered racial justice as important to their theological world but also because we as believers relate day in and day out with a God that as the Bible presents is not "fair", "evenhanded" or "impartial" according to the human conception of the term and does not subject Himself to the constructs of human fairness or equality. Sadly however, our conception of a Sovereign God as One who is not subject to the human concept of fairness has been erroneously translated into a God who does not operate temporally within the parameters of human fairness and equality or use human equality to reflect His Will. In this respect, we have not seen the evenhandedness or equality of the doctrine of God's sovereignty.
God's sovereignty is primarily promulgated from the standpoint of God's transcendence above the human construct of fairness but the doctrine of God's sovereignty has received much less attention in relation to God's immanence, presence or use of human and racial justice to glorify Himself and reflect His truth on earth. Because God's power and truth are not regularly communicated as being evidenced through the lens of racial justice or God's righteous indignation scarcely considered when discussing the reality of racial injustice, in turn we think God is a lot less concerned about racial injustice than He really is.
The historic reformed emphasis of our doctrine has been on transcendence as opposed to immanence and on knowing truth but not on helping the unknown. The historic emphasis has been our guide or measure for the importance or concern we think God has for such matters as racial injustice. Biblical evidence mentioning justice confirms that He cares a lot more about racial injustice than we do. Perhaps if historic reformed doctrine would have been constructed by those who were subjected to racial injustice instead of by those who were fully and completely protected as whole persons under the law, our doctrinal paradigms would interact more with God's concern for racial justice and racial harmony.
Even as God's rule, judgment and law transcend the legal writ of mankind and in fact is formula for it, His desire for righteousness among humans is present among us as well. Within the American justice system I question which is given more merit, God's prerogative to ultimately deal with all sin equal to the crime of eternal punishment or God's truth and rightness which ultimately led Him to endure the judgment of many. I sense our justice system primarily acts on the future reality of the former without fully considering the vital and life-changing ramifications of the latter.
As always, there is much more that could be said not only about the topic at hand but about chapter 3 of The Covenant. In spite of all that was not said, hopefully what was said can in some way substantiate a framework for so much that needs to be said and provide some aim for the paths that must be taken while also alerting one to the meaningful attempt this work seeks to make at addressing racial injustice despite all that this work fails to mention.
Co-Founder Michael Mewborn