Archives
You are currently viewing archive for August 2009
Dr. Stephen Ray, Neal F. and Ila A. Fisher Professor of Systematic Theology at Garrett-Evangelical Theological Seminary, speaks on Calvin, Calvinism and its relevance today.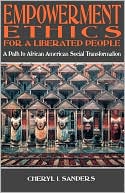 Empowerment Ethics for a Liberated People: A Path to African American Social Transformation
by Howard University School of Divinity professor Cheryl J. Sanders is an interesting and insightful work about African-American Christian ethics. Sanders identifies her book as a useful tool for those blacks who have already experienced liberation Sanders intends to offer these persons a practical ethical strategy to bring liberation to those blacks still suffering from oppression.[1] This focus on those who have already 'arrived' is refreshing and necessary. Many African-Americans in the middle class place the onus of liberation on the oppressed. Sanders' emphasis on the responsibility to empower the oppressed is powerful, timely, and essential.
Sidebar