Archives
You are currently viewing archive for June 2009
(Traditional) Fathers Don't Always Know Best
By Kai Wright
The notion that kids can't develop properly without a biological father was a lie when Dan Quayle asserted it in 1992, and it's a lie when Barack Obama says it now.
Who's your daddy? Barack Obama, that's who. We haven't seen black family role modeling like this since the Huxtables. Actually, Cliff and Clair couldn't touch the Obamas—they didn't have Bo. Still, the president's not content with his own nuclear family bliss. He really, really wants you to have a great dad, too.

But the problem with Obama's effort to turn Father's Day into an annual conversation about the tragedy of failed fathers is that it's rooted in one of the greatest—and most consequential—lies the Christian right has sold the country: That "traditional" family structures are best equipped to produce healthy kids. The notion that biological fathers are essential to childhood development wasn't true when Dan Quayle asserted it in 1992, and it won't become true no matter how eloquently Barack Obama restates it.

"The hole a man leaves when he abandons his responsibility to his children is one that no government can fill," Obama wrote in a beautifully crafted Parade magazine essay last week. "We can do everything possible to provide good jobs and good schools and safe streets for our kids, but it will never be enough to fully make up the difference."

This is a terribly moving refrain that echoes through all of the president's rhetoric on fathers—and it's entirely beside the point. Nobody sane would argue that government can give a child love. That truism, however, does not mean only a gendered dyad of parents are adequately equipped to do so.
To read the rest of the article, click here
While I was driving yesterday, I was listening to NRP's
All Things Considered
. I could not get out of the car upon reaching my destination until I finished listening to Eric Lewis on keys. He is indescribably talented. I needed to actually see what I was listening to because it was unreal. If there's a modern pianist that can do what seems to be humanly impossible, it is Lewis. Treat yourself and watch the video on NPR's website and the YouTube video below.
From
All Things Considered
:
Jazz pianist Eric Lewis has been wowing audiences since he was barely able to walk.

He grew up in a household full of pianos and music teachers — both his mother and grandmother taught the entire neighborhood to play. Tinkling keys were the soundtrack of his childhood.

Lewis later won the prestigious Thelonious Monk International Piano Competition and went on to play with jazz luminaries such as Ornette Coleman and Wynton Marsalis. He was a member of the Lincoln Center Jazz Orchestra.

But in recent years, he decided to step out on his own and pursue his vision of what he calls "rock-jazz."

"The idea is that, you know, I'm taking a piece from the pop culture much the same way that Louis Armstrong played 'Hello, Dolly' with Barbra Streisand," Lewis says. "You know, just interfacing in a certain kind of way that allows me to express my ingenuity, versatility, virtuosity without hijacking the sound of the genre and at the same time, preserving the elements of jazz, which are central and beloved."

During a recent performance in NPR's Studio 4A, Lewis spoke with host Michele Norris. Now 36, he's still the same dynamic performer, channeling the intensity of his music with energetic physicality. But as he's embraced popular music, he's also created a new musical identity: ELEW.

"People are used to seeing kids jump around," Lewis says. "You know, the target audience, the audience that's spending money on music, like rock and hip-hop — they're used to seeing people get really physically involved in their music.

"And so my notion is that in order for me to make a living — in order for me to enjoy myself, for that matter — I've got to get more athletically involved," he says. "I've got to show everyone how I feel."

As ELEW, Lewis may be abandoning the traditional jazz repertoire. But he doesn't say that he's abandoning jazz. For example, he pointed out the ragtime underpinnings of a Lynyrd Skynyrd song, comparing Scott Joplin's "Maple Leaf Rag" with "Sweet Home Alabama."

"Of course, the way the rock [band] does it, it's less emphasized in that overt kind of way," he says. "But the vocabulary on the surface level is very similar."

Lewis ended the interview with his version of "The Diary of Jane," by the alt-rock band Breaking Benjamin.
Lewis's rendition of Evanescence's "Going Under"
:
From
The African American Lectionary
:
EMANCIPATION PROCLAMATION DAY AND JUNETEENTH





LECTIONARY COMMENTARY



Thursday, January 1, 2009
Or Friday, June 19, 2009: Juneteenth

Editorial Note: Since the signing of the Emancipation Proclamation and Juneteenth share important historical and cultural connections, we explore them under the same lectionary moment. Some congregations will choose to celebrate each of these moments separately on different days. Others will elect to celebrate only one of these moments. Still other churches will combine the celebrations as we have done and celebrate them on January 1 or June 19th.

Yolanda Pierce, Guest Lectionary Commentator
Elmer G. Homrighausen Associate Professor of African American Religion and Literature, Princeton Theological Seminary, Princeton, NJ

Lection - Exodus 15: 20-21 (New Revised Standard Version)
(v.20) Then the prophet Miriam, Aaron's sister, took a tambourine in her hand; and all the women went out after her with tambourines and with dancing. (v.21) And Miriam sang to them: "Sing to the Lord, for he has triumphed gloriously; horse and rider he has thrown into the sea."

I. Description of the Liturgical Moment

Emancipation Proclamation Day
What a wonderful way to begin this extraordinary new year—talking about freedom. On January 1, 1863, as the nation approached its third year of the bloody and horrific Civil War, President Abraham Lincoln issued a proclamation declaring freedom for "all persons held as slaves." While this was a bold declaration in sentiment, it did not actually free all enslaved persons from bondage, because it applied only to states that had seceded from the Union, thus leaving slavery legal in the border states and in those parts of the Confederacy already under Northern control.

However, the impact of the spirit of the Emancipation Proclamation cannot be denied; it brought the cause of the emancipation of enslaved people to the very heart of this war. Every battle waged after January 1, 1863 struck a blow to the inhumane institution of slavery and advanced the cause of immediate emancipation. Lincoln's declaration also legitimized the service of black men into the Union Army and Navy, thus allowing the enslaved to be full participants in the struggle for their own freedom. By the end of the war, almost 200,000 African American soldiers and sailors had fought for the Union and for freedom.

It wasn't until the ratification of the Thirteenth Amendment to the United States Constitution, on December 18, 1865, that slavery was truly abolished. However, the Emancipation Proclamation stands as a great document of human freedom, reminding us that words are powerful tools in striking a blow to injustice, inequality, and oppression everywhere.

Juneteenth
On June 19, 1865, two thousand federal troops arrived in Galveston, Texas to take possession of the state from the Confederacy and enforce the emancipation of enslaved persons living there. Although the Emancipation Proclamation had been issued two years earlier, actual bodily freedom was slow in coming to the lives of the majority of enslaved men and women living in former Confederate strongholds. For a full two and a half years after Lincoln's famous address, African American men and women in places such as Texas continued to live under the confines of chattel slavery, some of them completely unaware that they were no longer legally under the oppressor's yoke.

Juneteenth, also known as Freedom Day or Emancipation Day, is the commemoration of this June 19, 1865 freedom event in Texas. And while the celebration of this day originated in Texas, it is now celebrated throughout the United States and in several countries. Usually commemorated in both public and private celebrations, Juneteenth is a festive remembrance of freedom. Whether at a church picnic or a dance festival in the park, Juneteenth has a celebratory flavor as an entire people look back and wonder "how they got over." For African Americans, more importantly this day represents the continuing legacy of resistance to oppression and our survival and endurance in the face of genocide due to God's sustaining power and deliverance.

II. Biblical Interpretation for Preaching and Worship: Exodus 15:20-21

Part One: The Contemporary Context of the Interpreter
In the Akan language of Ghana, "sankofa" is a term that translates to "go back and take." Sankofa symbolizes the action of taking from the past that which is good, and bringing it into the present in order to make positive changes for the future. As we enter a new year, we must retrieve from our past that which was important to our continued survival and our success – even as we approach the future with a new vision. While the African American past is a painful legacy, there is much joy there, as well. Our foremothers and forefathers were able to pass on a love for community, a love for God, and a love for all people, despite their enslavement. What a good way to begin a year—passing on the things which are most important.

As we celebrate emancipation and deliverance, we must do so with a full recognition of the costs of that freedom. In reverence, we cannot forget the sixty million and more who died during the transatlantic slave voyage and the many centuries of slavery. We must remember those who endured second class citizenship under Jim Crow. We must not forget that the battle for freedom is ever waging. In the spirit of the Emancipation Proclamation and in the spirit of Juneteenth, we must declare words of freedom for all who are in bondage, of every creed, color, nation, and persuasion. Chattel slavery in the United States is over, but slavery continues to exist all over the globe, as in Sudan or in the exploitation of migrant workers. When the Spirit of the Lord is upon us, we are called to proclaim liberty to the captive and release to the prisoners (Isaiah 61:1b). Are we doing all that we can to ensure that all people are free? What a good way to begin the year—fighting for freedom for others.
To read the rest of the article, click here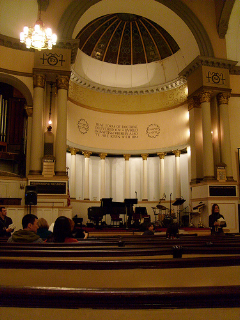 After recently receiving some very disturbing news regarding Redeemer Presbyterian Church in New York City, I have decided to come forward as a Christian and a citizen because such news demands a public outcry. What has occasioned such coming forward is the fact that there are many, including people of color, desiring change within the Presbyterian Church in America (PCA), Redeemer's denomination, who are also aware of these (and similar!) problematic matters, yet remain woefully silent. As a Christian, I speak out because the
public
truth and power of the gospel via its human mediators is at stake. As a citizen, I speak out because every citizen has a responsibility to freely interrogate public claims. As a Christian and citizen, I am even more compelled to speak out when Christian religious figures are involved in public discursive practices that may be bound up with religious meaning and thereby, implicating the Christian faith. And perhaps, as equally important, I have decided to speak up and speak out because Christian love, particularly for those involved, often requires prophetic witness.
Sidebar