Archives
You are currently viewing archive for May 2009
I'm just taking a minute to have a lil "church!" Join me if the Spirit so move!



Thank you, Jesus!
This is a fascinating story to follow for so many different reasons.
From ABCnews.com
:
Growing up in a black, Pentecostal family in Cleveland, Alysa Stanton never imagined the day when she would be preparing to be ordained as a Jewish rabbi.

But that day will come June 6 for the single mother who will be ordained by the Hebrew Union College-Jewish Institute of Religion in Cincinnati, becoming the first African-American female rabbi in the world.

"Ten years ago, if someone said I was going to be a rabbi, I would have laughed," Stanton, 45, told ABCnews.com. "Me, a spiritual leader?"

Soon-to-be rabbi Stanton and her daughter Shana, 14, whom she adopted when she was 14 months old, will move to Greenville, N.C., in August, where Stanton will take her spot behind the pulpit at Congregation Bayt Shalom, which is both conservative and reform.

First Female Black Rabbi

Stanton, a reform Jew, said that her mother encouraged her to explore different religions as a young child and that, at the age of 9, she was already asking her priest to teach her about Kaballah, which focuses on the mystical aspect of Judaism.

Then, at age 10, she received her first Hebrew grammar book from her devout Christian uncle who made it a habit to attend Jewish ceremonies, as well as his own. By her early 20s, Stanton said she'd decided to convert.

"Most people convert because they're marrying or dating someone who is Jewish or for another reason other than just picking that spiritual path," Stanton said.

"I did so because it was the path for me," she said. "Not only from a religious standpoint but from an ethical and social and communal standpoint, it was important to me."

Stanton Garners Mixed Reaction from Jewish Community

Twenty percent of the U.S. Jewish population, or about 1.2 million people, are diverse, meaning black, Asian, Latino or mixed race, according to the Institute for Jewish and Community Outreach in San Francisco.

"What's important here is not that this is the first black woman rabbi but rather that it's a symbol of a great change in the American Jewish community, which is becoming much more diverse because of things like conversions, intermarriage and adoption," said Jonathan Sarna, an expert on U.S. Judaism at Brandeis University in Boston.

"That is a change that is really significant," Sarna said. "That a community that even 50 years ago was rather monolithic, so much so that people thought they could look at someone and see if he 'looked Jewish.'

"This is a reminder that the chosen people, so to speak, is not one race or another race but are in fact a range of races," he said. "While Jews remain united by a bond of peoplehood as well as religion, that bond is not characterized in racial terms."
To read the rest of the article, click here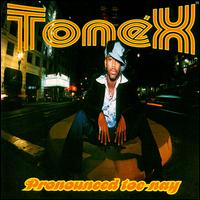 Beloved, with great lament, I must say that far too many black churches—and a certain enterprising preacher from EX Ministries—are casting stones on yet another gifted prophet and artist.
Personal Jesus: A Reflection on Tonex
is an ode to Tonex's classic urban anthem. As Kanye West says, folk need to get the roses while they can still smell them. In this case, I am extending an honorary ring pop to Tonex. I will offer musings—some theological, some not—on every song from
Pronounced Toe-nay
.
Finally, beloved, I want to say one more thing. There is a certain gospel artist who "denounced" Tonex at his live DVD recording. Understood. You are entitled to your own theological opinion. But, and I am sure you probably know this already,
your career would not be possible without Tonex
. What you said hurt him (I imagine), and pierced my soul with a Psalms-like lament. I do not know if you have apologized to Tonex, but if you have not my brother, you really should. Jesus would.
So glad I know you, and don't know of you
'Cause you a friend of mine,
I talk to you all the time
So glad I know you, and don't know of you
You've always been by my side
And you're my personal, personal, Jesus
- Tonex
Sidebar